DIESELS, DPF's & Injection Cleaning
Diesels
Diesels now account for 51% off the vehicle market share. Sometime back we made it our priority to focus on diesel servicing and diagnostics. This has put us in the perfect position to move forward with the latest diesel technology including DPF systems, common rail injection, injection system cleaning and much more.
Bosch are not only a massive player in the petrol vehicle market they actually invented the Common Rail diesel system used in all modern day diesel vehicles, the system has been copied by other manufactures but the Bosch system is by far the most popular. We use Bosch equipment and Bosch test data to fix diesel systems. You can count on us to look after all your diesel vehicle needs.
Its very important if you have a diesel to have it serviced regularly, its also very important to go for a long drive at least once every two weeks to stop the engine clogging up and to allow the DPF filter to regenerate.
Please don't hesitate to call us if you have any questions.
SERVICES OFFERED:
Diesel vehicle servicing to manufactures schedule.
Diesel vehicle servicing to our own tailed made fixed price schedules.
Diesel system diagnostics and fault finding including low and high pressure fuel system testing.
Diesel system analysis
All diesel faults diagnosed and repairs.
Specialists in DPF cleaning and replacement.
Specialist in in situ diesel injection systems, flush and cleaning services.
Diesel Injector Testing
We Now have the facilities to fully test not only the whole diesel fuel system but now all common rail and pump diesel injectors, Please call 01635 46757b if have any questions or wish to discuss this further.
We Now have the facilities to fully test not only the whole diesel fuel system but now all common rail and pump diesel injectors, Please call 01635 46757b if have any questions or wish to discuss this further.
Specialist Removal of Seized Injectors
Common rail diesel injectors must be removed to be fully tested, most of the time this isn't a problem but in some instances specialist extraction is necessary, due to rust and carbon build up around the injector causing the steel of the injector to fuse to the alloy of the cylinder head - this problem is generally referred to as a stuck, seized or frozen diesel injector. If these can't be removed some company's will change the entire cylinder head or engines and an extremely high cost.
Some of the worst offending engines are the Peugeot /Citroen/Ford 1.6 16v hdi diesels and the Vauxhall Vivaro/ Renault Trafic 2.0 DCI vans.
We at Millers Garage use specialist hydraulic tools remove these seized injectors to save the cylinder head/engine and sometimes we can save the injectors to be reused.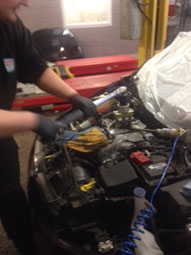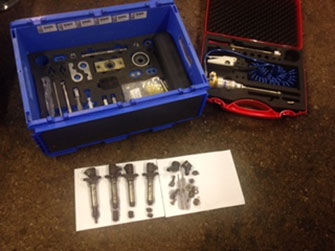 DPF (Diesel Particulate filter)
A diesel particulate filter (or DPF) is a device required by the Euro 5 emissions law and its designed to remove diesel particulate matter or soot from the exhaust gas of a diesel engine. This technology is complicated so if you have any questions please don't hesitate to call us.
In January 2014 Emissions law "Euro 6" comes in to place, this will see the introduction of even tighter emissions laws and AdBlue being used in cars for the first time, this has been common place in the HGV market for about 8 years. We are ready for this technology when it arrives and will update you with more information in the near future.
Why Do Cars Have DPF?s?
With changes to the car emissions legislation, the 'Euro 5' standards will make diesel particulate filters commonplace in diesel car exhausts, as catalytic converters are in petrol cars.
Why DPF are so costly
DPF system do have a service life, they either require cleaning (regeneration) or complete replacement. The cost of DPF replacements is very high, with some customers reporting total replacement costs of up to £2000 or more. So, we offer an alternative using specialist chemicals which don't damage the filter. We remove and fully clean the filter, at the same time we remove the EGR valve and fully clean that. We can even fully flush through your injection system in situ to insure no excess diesel is getting into the filter. If you have any questions, or would like to make a booking please call Glenn or Shaun on 01635 46757.
INJECTION SYSTEM FLUSH AND CLEAN:
Tunap petrol/diesel injector flush/cleaner is a de-coking chemical designed to remove accumulated carbon and combustion residue such as varnish from the inside of a petrol or diesel combustion engine.
The parts affected are the combustion chambers, valves, inlet and exhaust Manifolds, injectors, EGR valve and exhaust system.
This product will run through all the systems for a period of 60 minutes and will de-lacquer and de-carbon all the systems above, the best example is the injector spray patterns below, the top is the before pattern and the below is after using the Tunap product.
For an exact vehicle quote please either call on 01635 46757 or email on enquiries@millersgarage.co.uk